Ten Commandments Exodus Chapter 20:1-17
Exodus 20 KJV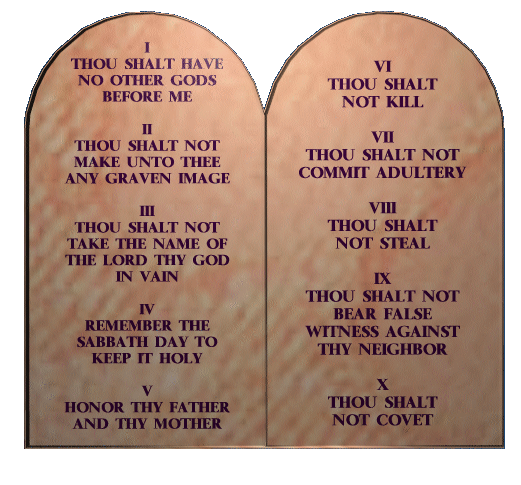 Exodus 20
1
And God spake all these words, saying,
2
I am the LORD thy God, which have brought thee out of the land of Egypt, out of the house of bondage.
3
Thou shalt have no other gods before me.
4
Thou shalt not make unto thee any graven image, or any likeness of any thing that is in heaven above, or that is in the earth beneath, or that is in the water under the earth.
5
Thou shalt not bow down thyself to them, nor serve them: for I the LORD thy God am a jealous God, visiting the iniquity of the fathers upon the children unto the third and fourth generation of them that hate me;
6
And showing mercy unto thousands of them that love me, and keep my commandments.
7
Thou shalt not take the name of the LORD thy God in vain; for the LORD will not hold him guiltless that taketh his name in vain.
8
Remember the sabbath day, to keep it holy.
9
Six days shalt thou labor, and do all thy work:
10
But the seventh day is the sabbath of the LORD thy God: in it thou shalt not do any work, thou, nor thy son, nor thy daughter, thy manservant, nor thy maidservant, nor thy cattle, nor thy stranger that is within thy gates:
11
For in six days the LORD made heaven and earth, the sea, and all that in them is, and rested the seventh day: wherefore the LORD blessed the sabbath day, and hallowed it.
12
Honor thy father and thy mother: that thy days may be long upon the land which the LORD thy God giveth thee.
13
Thou shalt not kill.
14
Thou shalt not commit adultery.
15
Thou shalt not steal.
16
Thou shalt not bear false witness against thy neighbor.
17
Thou shalt not covet thy neighbor's house, thou shalt not covet thy neighbor's wife, nor his manservant, nor his maidservant, nor his ox, nor his ass, nor any thing that is thy neighbor's.
18
And all the people saw the thunderings, and the lightnings, and the noise of the trumpet, and the mountain smoking: and when the people saw it, they removed, and stood afar off.
19
And they said unto Moses, Speak thou with us, and we will hear: but let not God speak with us, lest we die.
20
And Moses said unto the people, Fear not: for God is come to prove you, and that his fear may be before your faces, that ye sin not.
21
And the people stood afar off, and Moses drew near unto the thick darkness where God was.
22
And the LORD said unto Moses, Thus thou shalt say unto the children of Israel, Ye have seen that I have talked with you from heaven.
23
Ye shall not make with me gods of silver, neither shall ye make unto you gods of gold.
24
An altar of earth thou shalt make unto me, and shalt sacrifice thereon thy burnt offerings, and thy peace offerings, thy sheep, and thine oxen: in all places where I record my name I will come unto thee, and I will bless thee.
25
And if thou wilt make me an altar of stone, thou shalt not build it of hewn stone: for if thou lift up thy tool upon it, thou hast polluted it.
26
Neither shalt thou go up by steps unto mine altar, that thy nakedness be not discovered thereon.
Exodus 20
Ten Commandments Exodus 20
Exodus 20:1,2

God speaks many ways to the children of men; by conscience, by providences, by his voice, to all which we ought carefully to attend; but he never spake at any time so as he spake the TEN COMMANDMENTS. This law God had given to man before; it was written in his heart; but sin so defaced it, that it was necessary to revive the knowledge of it. The law is spiritual, and takes knowledge of the secret thoughts, desires, and dispositions of the heart. Its grand demand is love, without which outward obedience is mere hypocrisy. It requires perfect, unfailing, constant obedience; no law in the world admits disobedience to itself. Whosoever shall keep the whole law, and yet offend in one point, he is guilty of all, James 2:10. Whether in the heart or the conduct, in thought, word, or deed, to omit or to vary any thing, is sin, and the wages of sin is death. Commentary on Exodus 20:3-11

Exodus 20:3-11

The first four of the ten commandments, commonly called the FIRST table, tell our duty to God. It was fit that those should be put first, because man had a Maker to love, before he had a neighbor to love. It cannot be expected that he should be true to his brother, who is false to his God. The first commandment concerns the object of worship, JEHOVAH, and him only. The worship of creatures is here forbidden. Whatever comes short of perfect love, gratitude, reverence, or worship, breaks this commandment. Whatsoever ye do, do all the glory of God. The second commandment refers to the worship we are to render to the Lord our God. It is forbidden to make any image or picture of the Deity, in any form, or for any purpose; or to worship any creature, image, or picture. But the spiritual import of this command extends much further. All kinds of superstition are here forbidden, and the using of mere human inventions in the worship of God. The third commandment concerns the manner of worship, that it be with all possible reverence and seriousness. All false oaths are forbidden. All light appealing to God, all profane cursing, is a horrid breach of this command. It matters not whether the word of God, or sacred things, all such-like things break this commandment, and there is no profit, honor, or pleasure in them. The Lord will not hold him guiltless that taketh his name in vain. The form of the fourth commandment, "Remember," shows that it was not now first given, but was known by the people before. One day in seven is to be kept holy. Six days are allotted to worldly business, but not so as to neglect the service of God, and the care of our souls. On those days we must do all our work, and leave none to be done on the sabbath day. Christ allowed works of necessity, charity, and piety; for the sabbath was made for man, and not man for the sabbath, Mark 2:27; but all works of luxury, vanity, or self-indulgence in any form, are forbidden. Trading, paying wages, settling accounts, writing letters of business, worldly studies, trifling visits, journeys, or light conversation, are not keeping this day holy to the Lord. Sloth and indolence may be a carnal, but not a holy rest. The sabbath of the Lord should be a day of rest from worldly labor, and a rest in the service of God. The advantages from the due keeping of this holy day, were it only to the health and happiness of mankind, with the time it affords for taking care of the soul, show the excellency of this commandment. The day is blessed; men are blessed by it, and in it. The blessing and direction to keep holy are not limited to the seventh day, but are spoken of the sabbath day.
Exodus 20 Moses Ten Commandments bring you these weekly Bible verses:
Ephesians 5:9-12
9
 (for the fruit of the Spirit is in all goodness, righteousness, and truth), 

10
 finding out what is acceptable to the Lord. 
11
 And have no fellowship with the unfruitful works of darkness, but rather expose them. 
12
 For it is shameful even to speak of those things which are done by them in secret. 
Ron Paul
Like Us: