Explanation of the Meaning of The Ten Commandments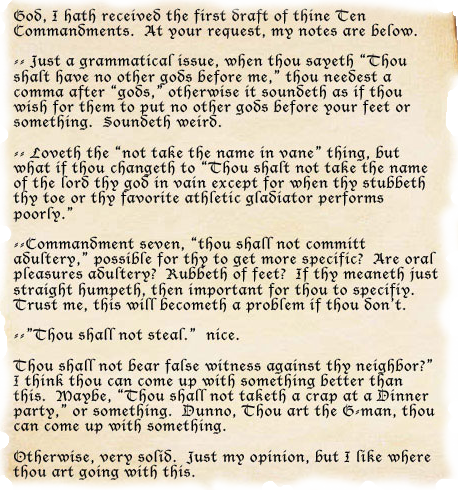 Meaning of the Ten Commandments
Explanation of the Meaning of the Ten Commandments
The background of Moses, provides an explanation of much of the meaning of his life. The Torah records only three incidents in Moses' life before God appoints him a prophet. As a young man, outraged at seeing an Egyptian overseer beating a Hebrew slave, he kills the overseer. The next day, he tries to make peace between two Hebrews who are fighting, but the aggressor takes umbrage and says: "Do you mean to kill me as you killed the Egyptian?" Moses immediately understands that he is in danger, for though his high status undoubtedly would protect him from punishment for the murder of a mere overseer, the fact that he killed the man for carrying out his duties to Pharaoh would brand him a rebel against the king. Indeed, Pharaoh orders Moses killed, and he flees to Midian. At this point, Moses probably wants nothing more than a peaceful interlude, but immediately he finds himself in another fight. The seven daughters of the Midianite priest Reuel (also called Jethro) are being abused by the Midianite male shepherds, and Moses rises to their defense (Exodus 2:11-22).
God used Moses to deliver the Ten Commandments to the Children of Israel
Exodus 20
18 And all the people saw the thunderings, and the lightnings, and the noise of the trumpet, and the mountain smoking: and when the people saw it, they removed, and stood afar off.
19 And they said unto Moses, Speak thou with us, and we will hear: but let not God speak with us, lest we die.
20 And Moses said unto the people, Fear not: for God is come to prove you, and that his fear may be before your faces, that ye sin not.
21 And the people stood afar off, and Moses drew near unto the thick darkness where God was.
22 And the LORD said unto Moses, Thus thou shalt say unto the children of Israel, Ye have seen that I have talked with you from heaven.
23 Ye shall not make with me gods of silver, neither shall ye make unto you gods of gold.
24 An altar of earth thou shalt make unto me, and shalt sacrifice thereon thy burnt offerings, and thy peace offerings, thy sheep, and thine oxen: in all places where I record my name I will come unto thee, and I will bless thee.
25 And if thou wilt make me an altar of stone, thou shalt not build it of hewn stone: for if thou lift up thy tool upon it, thou hast polluted it.
26 Neither shalt thou go up by steps unto mine altar, that thy nakedness be not discovered thereon.